Cufflinks can offer you the uniqueness you desire in your outfit. You can easily grab any cufflink on the market, but not all of them can complement your outfit. How do you wear cufflinks correctly? We will teach you how to rock your cufflinks and look stylish.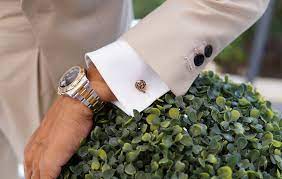 Types of Cufflinks
The first thing you should know is the type of cufflinks available. Hence, it becomes easier to suit your requirements and taste when you pick the right items. So, here is some of the type of cufflinks:
Toggle Closure:  You can easily find this type of cufflinks around because they are easy to wear and are secure.
Chain: People who love accessorizing would love the chain cufflinks. They come versatile and look traditional when you wear them. You don't have to struggle to wear this item.
Fixed Back: The fixed back cufflinks are highly traditional and great for your special events like weddings.  In addition, they last long and secure when you use them,
Whale Back:  Men who want to look stylish can use the whale back cufflinks. They are ideal and easy to rock. You will find the post hollow and versatile to use.
Stud: The studs look like the whale back cufflinks, but are small and compact. Do you love minimalist appearance? You will like these cufflinks that are light-weight and complement most outfits.
Bullet Back:  The bullet back cufflinks have a cylinder set amidst two bars tangled to firmly to secure the cufflinks properly. The accessories look simple and easy to manage. Stylish people would love how they look with these cufflinks.
Ball Return: With these cufflinks, you don't have to struggle to wear them. They offer you a wide variety of designs that you can pick.  Whether you want small or big sizes, you would get them from this cufflink.
Knotted: Have you seen the knotted cufflinks? Knotted gives you the attention you desire on your arms. They are great and beautiful to behold.
How To Wear Cufflinks
If you are thinking of how to wear your cufflinks, here is what to know:
The Double Cuffs
When it comes to wearing cufflinks with double cuffs, you should learn how to fold your cuff back. The folding must be neatly done and the extreme corner edges of your cuff should be close to the fingers.   In addition, every aspect of your folding is perfectly done.
You have to make sure that each hole of the side of the cuff aligns to ensure an easy insertion of your cufflinks.
To wear your cufflinks, ensure that their decorative parts are displayed outwardly, especially when the arms are at the sides of your frame.  Then, ensure that the other part of your cufflink's material go through the cuff fabric's layers.
The cufflinks must be secured right on the opposite side. You should consider the type of cufflinks and your shirt cuffs when want to rock them.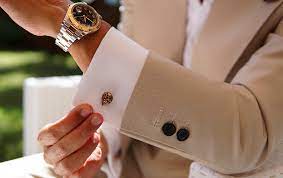 How To Wear Cufflinks With A Regular Shirt
Do you know how to rock cufflinks with your shirt? Here is a simple step to follow when you want use cufflinks on your shirt.
You should go for the sleeves of your shirt first, before you can pinch their cuffs together to press the insides.
After this step, you have to push the cufflink into the holes of the cuff. Don't forget that the decorative part of your cufflinks must face right outside when your arms are on the side.
Next, depending on the cufflink's style, ensure that you secure it right behind the cuff.
When Should You Avoid Wearing Cufflinks
No matter how much you love wearing cufflinks, there are moments when you don't have to use them. We have listed some of the times you don't need to use cufflinks.
You don't have to wear cufflinks daily. When you wear cufflinks, they should look cool and unique on you. Don't make your cufflinks look common by wearing them always.
Find ways to keep the aging part of your cufflinks away from the public.
Ensure you don't wear cufflinks that do not match the watch.
The knot should always compliment the collar of your shirt.
Avoid wearing deformed cufflinks. When your cufflinks are bad, you should replace them with better ones. No one wants to see damaged items around a well dressed person.